Right now I am really
sick
of knitting baby stuff.
Each year my workplace raises money (and knits baby stuff) for the NICU at Dunedin Hospital, so two months or so a year are dedicated to making teeny-tiny preemie-sized hats and booties.
I don't mind doing them. They're adorable and easy and a really fast knit, so you feel like you're achieving a lot in a short space of time. (Even though weaving in all those ends quickly becomes a right pain in the behind!)
However this seems to be the point in life when ALL my friends and family have started having babies.
Cue expectations of gorgeous handknitted baby gear.
Since I'm both practical and lazy, I refuse to make baby gear from yarns that are difficult to wash and care for. Why make a garment that a tired, stressed new Mum can't just biff in the washing machine when it inevitably gets dribbled/puked/spilled on? Fussy high-maintenance premium yarns may seem like a nice idea at first, but very few new Mums -or even experienced Mums- have time to carefully hand-wash selected items of clothing every other day.
My knitting time is also rather limited at present. I don't want to put weeks of my scarce knitting time into a gorgeous little jacket that will be outgrown in a few weeks. (Because tiny humans don't stay tiny for long!) I'd rather put that time into a pretty blanket that they'll be able to use in various ways for at least a year.
Who says a cot blanket can't become a pram blanket, toy blanket, winter-leg-warmer or long-car-trip blanket?
After all that grousing, here is a small selection of the baby gear I've made over the last year. The hats are preemie sized and the booties are a standard newborn-6months size. I've mainly used Magic Garden Classic Prints, because they have a gorgeous line of pure merino in positively edible colourways.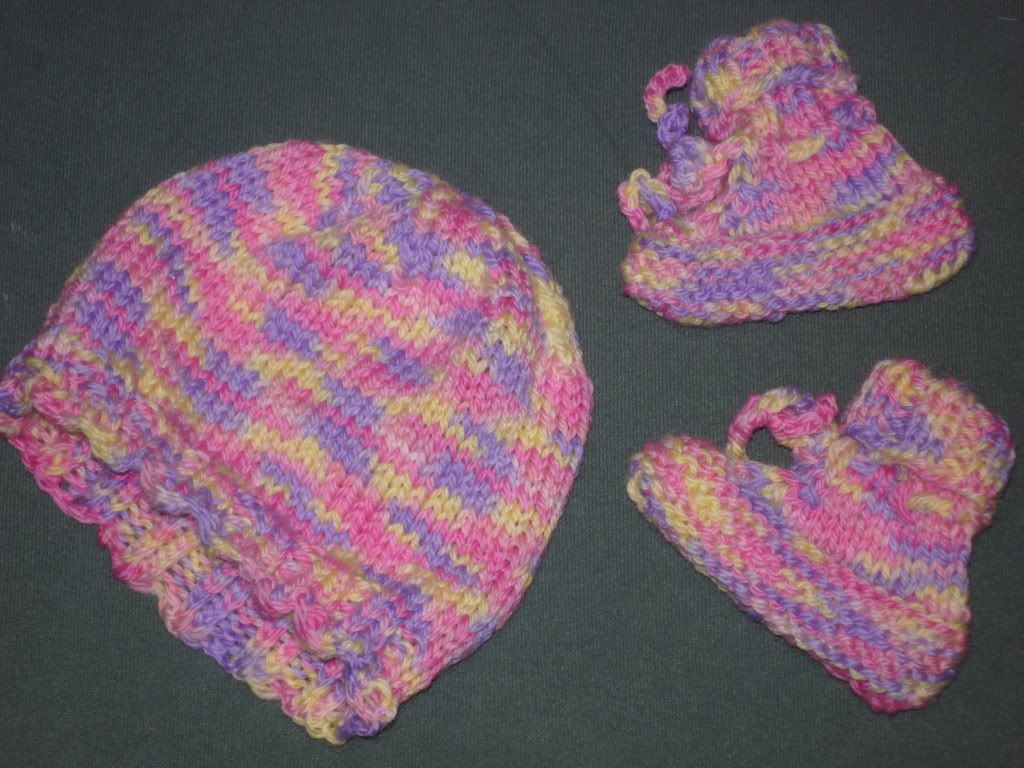 Lots of pinks, because I now have a lot more adorable little nieces.
I hope you have a wonderful crafternoon!
~Topaz